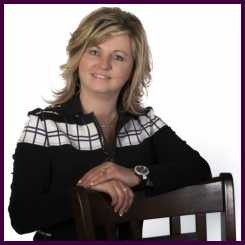 Kim's Helpful Resources
Kim Shears-Bailey is a Realtor who has the Energy to help you in all aspects of buying or selling your home with helpful advice and tips through out this resources section to assist you in making your move as smooth as possible. If you can't find what you're looking for just give Kim Shears-Bailey a call at 1-780.788.9977 and she'll be more than happy to answer any questions you may have.

Address Moving Check List
Canada Customs and Revenue Agency:
Child tax benefit, Canada pension plan, GST rebate, income tax. Credit Card Companies: When you receive your statements, fill out the change of address form. This is usually on the reverse side of the statement. Donít forget to notify any card protection insurers that you may have.
Financial Institutions:
Notify all your banks / credit unions, financial adviser, investment firms, mortgage brokers of your change of address and maybe consider transferring your accounts to a branch nearer to your new home. Insurance Companies: Contact your broker or the individual companies for your life, motor, medical, pet and contents and any other insurance. When contacting your house contacts insurers, check with them to see what you are covered for in regards to moving to your new house, you may find that you are fully covered and have no need to take out extra coverage with your moving company.
Ministry of Transportation/Motor Vehicles Branch/Registry:
Driverís license, vehicle and plate registrations.
Phone/Cellular Phone/Internet/Cable/Satellite Company:
Contact providers and advise them of your change of address and the date that you wish your new number to operate from. Make sure that if your phone is to be disconnected that it only gets booked for the day after you move out, so you have access to a phone, or use your cellular. Change and or redirect your e-mail. Notify other communication service providers.
Utilities: Electricity, Gas and Water.
Contact your existing and new utility companies. Advise them of your new address and date of moving. Give plenty of notice, and always assume they havenít listened to you the first time, so phone them a second time to confirm your address.

Fort McMurray Moving Check List
Alberta Health Care 780-427-1432
Alberta Blue Cross 780-790-3390
Health Insurance Provider
Child Tax Benefit 800-387-1193
G.S.T. 800-9591953
Canada Revenue 800-959-8281
Fort McMurray Today 780-743-8186
Driverís License Any Local Registry
Canada Post Local Post Office
Credit Card Companyís
Children School
Insurance Company
Power & Gas Direct Energy 866-374-6299
Phone Telus 800-400-2598
Shaw Digital 780-714-5353
Cable Shaw Cable 780-714-5355
Water Regional Municipality 780-743-7976
Cell Phone Telus Mobility 866-558-2273
Bell 780-747-7014
Tridon Communications 780-791-1002
Rogers Wireless 780-714-6150